We're part of the Scotmid Co-operative Society who started trading as St Cuthbert's in Edinburgh in 1859. So, as mentioned in our latest edition of our Jigsaw magazine, to celebrate our 160th anniversary, we're giving existing Scotmid members £160 off our fully guaranteed funeral plans, until 31st January 2020.
Simply pop into one of our funeral homes, have a cup of tea and a chat about one of our fully guaranteed Funeral Plans, one less thing for you to worry about!
Terms and condition apply, please see our FAQ's below.
Funeral plan choices
Bespoke cremation or burial plan
Our bespoke funeral plan, is designed so you can choose exactly the service you want, this can be either a burial or cremation. This gives you the flexibility of building your own plan, for example, you might want several limousines as well as order of service booklets, or specific flowers.
Our fully trained staff will sit down with you and discuss your wishes and put together a funeral plan that exactly fits your choices.
Set Cremation plans from £2,600
If you're choosing a cremation, then one of our set cremation plans might be a better choice. Our set cremation plans make it easy to see what's included at a fixed price, there are four set plans for you to choose from.
The Edinburgh Plan at £2,600
The Stirling Plan at £3,400
The Linlithgow Plan at £3,650
The Balmoral Plan at £3,950
When choosing a plan, please read our funeral plan Terms & conditions and  Key Features Document.
Cremation without Ceremony £1,295
A Cremation without Ceremony, sometimes known as a direct cremation, is for those who would prefer a straightforward funeral. It's different to a traditional funeral as there's no funeral service and with no one present at the cremation.
This option of a straightforward cremation is now being chosen by a growing number of people.
Regardless of how you'd like to say farewell, our caring team treat everyone with the same level of professionalism, integrity and care.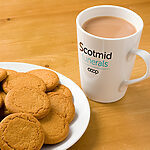 Provide for the future at today's cost
By planning for the future with a Scotmid Funeral Plan you can save your family a lot of financial worry at a time when they least need it. The cost of your funeral is inflation proof and you'll be able to purchase a Scotmid Funeral Plan at today's prices to cover all the agreed costs.
Financial Security
So we can deliver our obligations to you, all Funeral Plan monies paid to Scotmid are invested in individual whole of life assurance policies between us and the Royal London Mutual Insurance Society Limited.
Paying for the plan is easy
You can pay for your Funeral Plan in cash, by cheque, by credit/debit card, or by interest free payments (up to 24 months).
Funeral Plan Q&A's
What to do next
If you'd like further information on our Funeral Plans or our free planning service, please call us on 0800 996 1927 or visit any of our Scotmid funeral homes. Don't forget to mention JIGSAW160 to our staff
Contact us